Winter Break in the irrigation

On November 29th it was shut down.
On the fields in the irrigation area of ​​the Abwasserverband Braunschweig they are usually at regular intervals and do their work diligently: the irrigation machines.
In the last few weeks, however, they have been brought step by step from the fields to their winter quarters with tractors. The reason is the annual winter break in the irrigation from the end of November/beginning of December to the end of January. During this time, the irrigation machines are also serviced if necessary.
In February the irrigation starts again.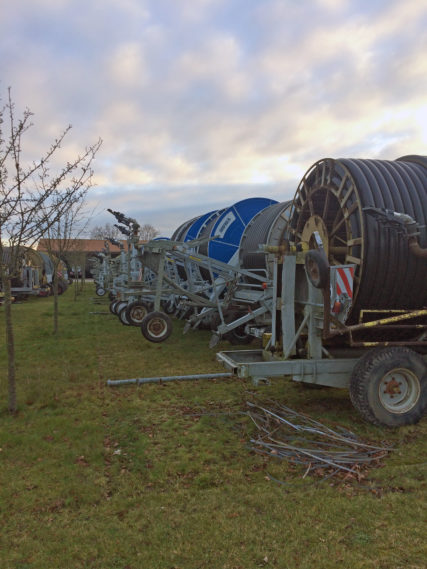 The Abwasserverband Braunschweig has over 173 irrigation machines from different manufacturers.
The association area is divided into four irrigation districts:
1st district: Harvesse, Rothemühle, Gr. Schwülper, Neubrück
2nd district: Wipshausen, Didderse, Neubrück
3rd district: Hillerse, Rietze, Wipshausen, Volkse
4th district: Seershausen, Volkse, Rietze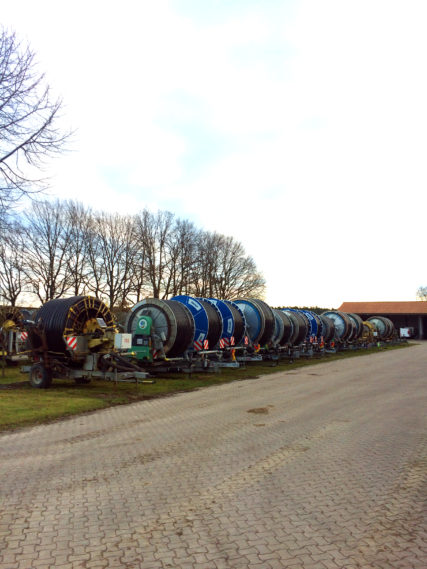 The purified water is distributed from the central pumping station in each district to an underground pressure pipe network. In the irrigation area there is a hydrant at a distance of 54 meters from which the purified water can be taken.
The distribution on the area is then carried out with the irrigation machines of the association.
Depending on the different lay lengths, the machines have pipe lengths of between 320 meters and 600 meters, so that up to 3.5 hectares can be irrigated with one machine. During the irrigation phase, the sprinkler is pulled back towards the irrigation machine at a maximum speed of 16 m/h and a irrigation volume of 35 l/m².