Managing Director
Since the first of October 2019 Dr. Franziska Gromadecki is managing director of the Abwasserverband Braunschweig.
After her academic studies in construction engineering with a focus on sanitary environmental engineering, waste management and urban and regional planning at TU Braunschweig, and her following conferral of a doctorate in the field of sanitary environmental engineering, Dr. Gromadecki worked in several different positions at the city of Braunschweig.
Since 2008 Dr. Gromadecki was head of the city's department for urban drainage and waste management. In this position she was responsible for controlling contracts concluded with external service providers, managing the closing of the waste disposal site in Watenbüttel, and the budget planning of the city's department.
Since November 2017 Dr. Gromadecki additionally held the office of the deputy head of the city's department for underground construction and traffic.
From 2001 until 2014 she had a lectureship at TU Braunschweig.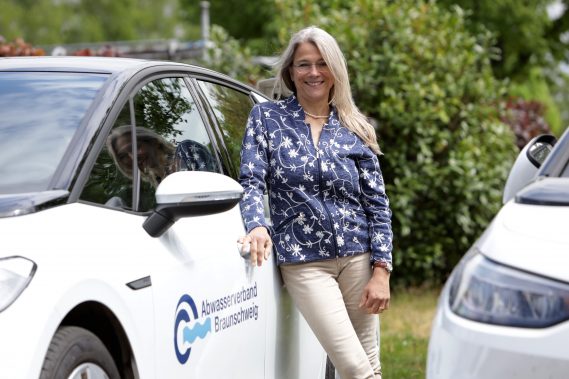 Due to her occupation at the City of Braunschweig, Dr. Gromadecki had several points of contact with the Abwasserverband Braunschweig over the years. As an engineer, she was commissioned to be an external inspection officer by the Abwasserverband Braunschweig for multiple years. Her controlling and contract management duties at the city of Braunschweig required close collaboration with the Abwasserverband.
Describing the main focus of her work as managing director of the Abwasserverband Braunschweig, Dr. Gromadecki said: "Together with our employees, my goal is to develop the Abwasserverband further in a future-proof way. Any scientific development and new legislation concerning our work must be observed and analyzed precisely. The contamination of waste water with micropollutants and medication residues is a challenge we will have to master. The Europe-wide approach of funding water recycling in agriculture makes the Abwasserverband a highly demanded discussion and project partner.
The project 'KlärWert' which is currently in a testing phase, shall reduce the impact of nitrogen and phosphor from the waste water on the treatment plant in Steinhof and allow the recovery of these substances. All of these currently existing potentials must be used to ensure the appeal, the Abwasserverband has for its members, in the long term.
In addition to several other projects, it is a concern for Dr. Gromadecki to assure that the Abwasserverband Braunschweig will continue being perceived as an attractive employer within the region, as it will only be possible to overcome current challenges with a satisfied and motivated team, according to Dr. Gromadecki.